General: The ideal solution for permanent means of access, with comfortable treads and handrail.

Features and benefits:
- Stiles made from high-strength aluminium extrusions with screw channels for flexible assembly.
- Selection of required angle of inclination: 45° for comfortable access or 60° for confined spaces.
- Selection of tread widths 600 mm, 800 mm or 1,000 mm.
- Serrated aluminium tread covering as standard.
- Two wall and floor brackets for attachment of the steps as standard.
- Single-sided handrail as standard equipment.
- Handrails can be removed individually• and without the use of tools.

Optional:
- Second handrail available at an additional charge.
- Treads with steel •open grid covering optional at an additional charge.

Note!!
For 45° inclination models if wall distance > 200 mm and for all 60° inclination models a second handrail is mandatory
according to NEN ISO 14 122.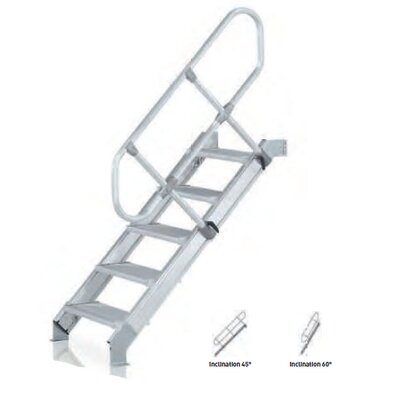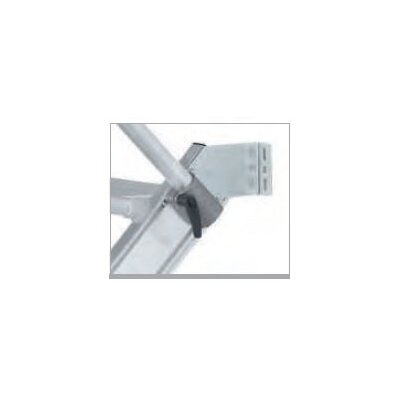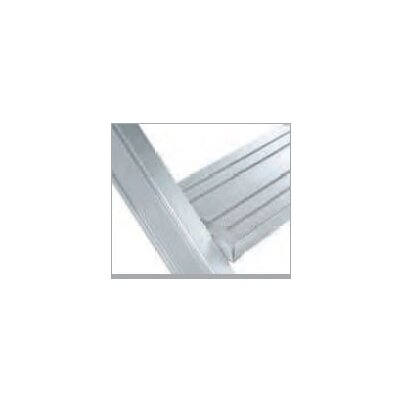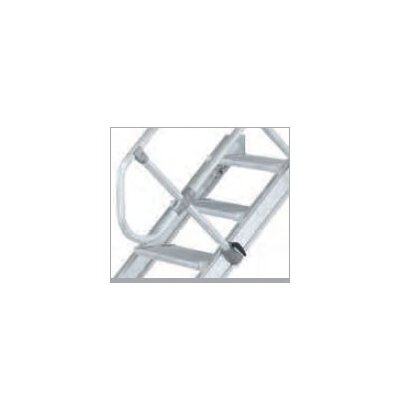 Currently this product cannot be added to an online quote. Please contact us directly for enquires.
Download CAD

Download CAD by choosing the desired product from the table above and the format from the menu below. Click "Get CAD" and after the load reaches 100% you can click on the download icon to download it. Please note that CAD drawings are only available if the icon at the right side of the table above is colored and not grayed out.
| | | | | | | | | | |
| --- | --- | --- | --- | --- | --- | --- | --- | --- | --- |
| access steps with one handrail - 45° inclination. | | | | | | | | | |
| vertical height | base stand-off | number of treads | tread width 600 mm | tread width 800 | tread width 800 mm | | tread width 1000 mm | | second handrail |
| mm | mm | | order no. | order no. | order no. | order no. | order no. | order no. | order no. |
| 1070 | 1142 | 5 | 400 | 59244 | 400 | 59264 | 400 | 59344 | 59306 |
| 1500 | 1572 | 7 | 400 | 59246 | 400 | 59266 | 400 | 59346 | 59308 |
| 1930 | 2002 | 9 | 400 | 59248 | 400 | 59268 | 400 | 59348 | 59310 |
| 2360 | 2432 | 11 | 400 | 59250 | 400 | 59270 | 400 | 59350 | 59312 |
| 2790 | 2862 | 13 | 400 | 59252 | 400 | 59272 | 400 | 59352 | 59314 |
| 3220 | 3292 | 15 | 400 | 59254 | 400 | 59274 | 400 | 59354 | 59316 |
| 3650 | 3722 | 17 | 400 | 59256 | 400 | 59276 | 400 | 59356 | 59318 |
| | | | | | | | | | |
| --- | --- | --- | --- | --- | --- | --- | --- | --- | --- |
| access steps with one handrail - 60° inclination. | | | | | | | | | |
| vertical height | base stand-off | number of treads | tread width 600 mm | tread width 800 mm | tread width 800 mm | | tread width 1000 mm | | second handrail |
| mm | mm | | order no. | order no. | order no. | order no. | order no. | order no. | order no. |
| 1250 | 807 | 5 | 400 | 59204 | 400 | 59224 | 400 | 59324 | 59286 |
| 1750 | 1095 | 7 | 400 | 59206 | 400 | 59226 | 400 | 59326 | 59288 |
| 2250 | 1384 | 9 | 400 | 59208 | 400 | 59228 | 400 | 59328 | 59290 |
| 2750 | 1673 | 11 | 400 | 59210 | 400 | 59230 | 400 | 59330 | 59292 |
| 3250 | 1961 | 13 | 400 | 59212 | 400 | 59232 | 400 | 59332 | 59294 |
| 3750 | 2250 | 15 | 400 | 59214 | 400 | 59234 | 400 | 59334 | 529296 |