Tensile testing machine up to loads of 14.000 kN
The strongest slings, anchors, blocks, lifting beams and steel cables. At Mennens we (re)test these lifting devices with our powerful tensile testing machines. If desired, under the watchful eye of an official inspection body. Want to take a look yourself? You are most welcome.
Mennens in Dongen operates a tensile testing machine with a capacity of 14.000 kN, which is considered to be one of the largest of its kind in the Benelux.
Mennens is capable of proof-loading and/or testing almost any hoisting, lifting, pulling and lashing equipment with respect to the requirements of the customer or certifying society. However, this tensile testing machine is not only intended for testing our own products. We also offer this service to anyone else who wishes to make use of the unique properties of our tensile testing machine.
Speed and efficiency are our main objective. This means that no single installation needs to come to a standstill, nor any ship to remain at anchor in port due to the lack of the required certificates.
Our Tensile Testing Services
Proof and Break load testing
Load cell calibration
Safety guarantee
The tensile testing machine makes it possible to (re)test the very heaviest straps, anchors, blocks, beams, steel cables, etc. for the desired values. These include tests for national or international approval certificates. Mennens' specialists are already carrying out the legally required tests to a high level of accuracy. There clearly is a demand for this because they are also used by international classification agencies, including:
Lloyd's Register of Shipping
Bureau Veritas
DNV (Det Norske Veritas)
Germanischer Lloyd
ABS (American Bureau of Shipping)
R.I.N.A. (Registro Italiano Navale)
USSR Register of Shipping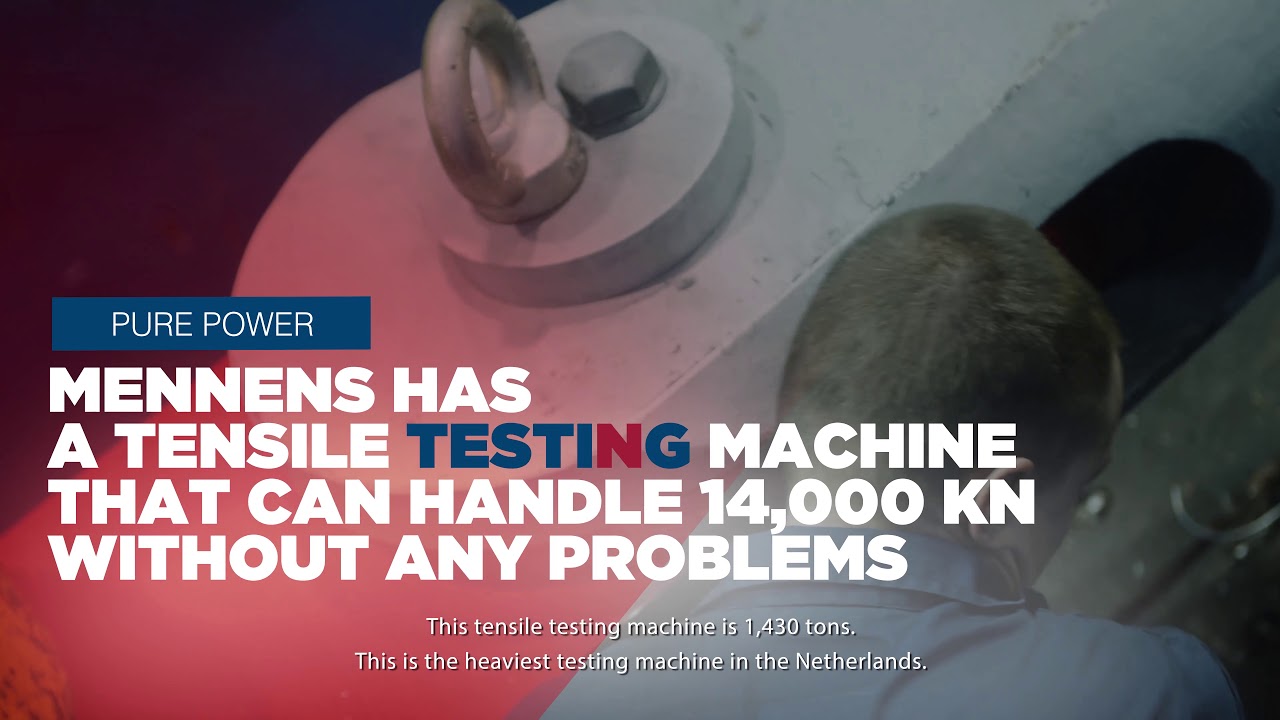 Proof and break load testing services

We can do all kinds of proof and break load testing in our facility for:
Steel wire rope (Diameters up to 119mm )
Synthetic rope
Slings (synthetic, dyneema, round & hoisting)
Shackles
Chains
Grommets
Hooks (hoisting, towing, mooring)
Etc
Thanks to the latest technology, the tensile testing machine can be made operational almost instantly, ensuring quick and efficient processing of both light and heavy equipment.
The frame, which is approximately 10 m(L) x 2,4 m(W) x 1,95 m(H) in size, enables shackles, blocks, 2, 3 and 4 leg slings to be proof-loaded up to a load of 1428 metric tonnes, or loaded to destruction to up to 1000 metric tons depending on the equipment tested.
In the narrow (600 mm (W) x 500 mm (H)) extension of the machine, a load of 850 metric tonnes can be applied at approximately 35 meters in length. Intermediate lengths have intermediate maxima. This section is specifically made to proof-load long objects.
Also, we can regulate the speed of the load between 1 and 1000 kN per minute.
Load cell Calibration
---
Load cell calibration services
We can do all kinds of Load Cell Calibration in our facility for:
Shackles
Mooring of Towing hooks
Load Pins
Thanks to the latest technology, the tensile tension testing machine has a maximum deviation of 1 % from the measured value which makes it ideal for load cell calibration services.
Especially for loadcell calibration, our machine is equipped with an RS232 port with actual force output through ASCII format, which is ideal for loadcell calibration.
This gives the customer the possibility to connect their own computer or other equipment to our machine so both values can be processed at the same time too for example special software.
Also, we can regulate the speed of the load between 1 and 1000 kN per minute.