Zeilmakerij van Mennens
De ambachtelijke zeilmakerij van Mennens, gelegen in Groningen, maakt afdekkleden en afdeknetten, hoezen en tenten van hoge kwaliteit. Deze producten zijn beschikbaar in allerlei kleuren en vormen, en zijn uiterst geschikt voor de transportsector (bijvoorbeeld om je vrachtwagen te voorzien van een robuust afdekkleed.) Stel, sjorbanden en sjorkettingen voldoen niet voor jou, dan zijn deze afdeknetten een perfecte aanvulling.
Mennens heeft meer dan 30 jaar ervaring in het produceren van zeilen en aanverwante producten, en kan daarom gericht helpen bij het selecteren van de juiste materialen, ontwerpen en toepassingen.
Meer weten over de bijzondere werking en mogelijkheden van de zeilmakerij? Neem contact op met je dichtstbijzijnde Mennens-vestiging.
Mennens' tarpaulin production facility
Want a new sturdy tarpaulin for your lorry? Mennens has a professional tarpaulin production facility at the Groningen branch. In addition to high-quality tarpaulin, this traditional tarpaulin production facility produces covering nets, covers, and awnings in the most diverse shapes and colours. Perfect for anyone active in the transport sector requiring more than just lashing straps, lashing chains, container cables, etc.
Mennens has more than 30 years' experience in the production of sails and related products, and can, therefore, provide targeted assistance in the selection of the right materials, designs, and applications.

From tarpaulins to marquees
We also create customised solutions such as greenhouse covers, tarpaulins, boat covers, trailer covers, container covers, etc. We even produce much larger applications such as circus tents, marquees, and canopies. In short, we have all the expertise and experience needed to handle any surface!
Of course, we also supply the accompanying prints, such as logos, photos, and texts. This could be complete carriers for your advertisements in the form of sailcloth canvasses, pulled taut in an aluminium frame, for example. Mennens presents this as a single attractive, striking whole.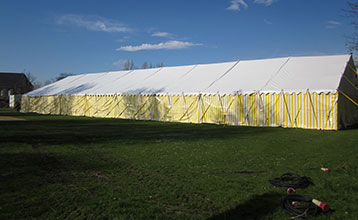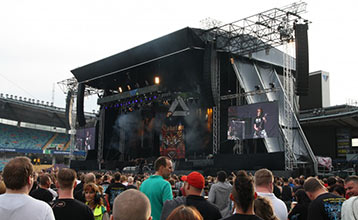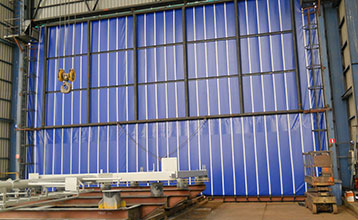 Examples of Mennens' tarpaulin production facility
Attractiepark Drouwenerzand.
Long, eye-catching, and protective entrance to the haunted house.
GS YARD curtain wall.
Curtain wall that neatly seals off the access (an opening of no less than 16.2 m x 10 m) to a shipyard.
Skyline Aviation hangar.
Curtain wall to divide a hangar at the airport in Eelde.

Benefit from one of the largest and most skilled sailmakers in Europe. Also available for all repairs to sails, hoods, and covers. Want to find out more about the exceptional operation and possibilities in the area of tarpaulin production? Contact your nearest Mennens branch.