General:
Electric winch for loads from 250 up to 1500 kg with low voltage control and variable speed
Multifunctional electric winch offering many rope attachments, rope outlets and options. Robust and compact, it benefits of a high operating factor for all kind of applications such as for example: Industrial applications, Building and public works, Theatre applications, Integration into many types of devices, cranes, material lifts etc.
Technical properties:
- Welded steel drum.
- Aluminium casing.
- The low voltage control protects the user from electrical risks.
- In addition to the low voltage advantages, the not disconnectable pendant control offers a variation of the winding speed, with gradual starting and stopping.
- Asynchronous three-phase motors (230/400 V – 50 Hz P= 0.75 – 1.1 – 1.5 – 2.2 - 3 - 4 – 5.5 kW depending on the models).
- Reducer sealed in oil bath with helical gears.
- 24 V or 190 V direct current electromagnetic brake (depending on the models).
- Electrical equipment under sealed cover.
- Very low voltage, 24 V remote control with socket – IP 65 protection.

Optional:
- limit switch.
- Radio control.
- load limiter.
- Lengthened drum models. Wirerope capacity will increase by 1.5 x standard capacity.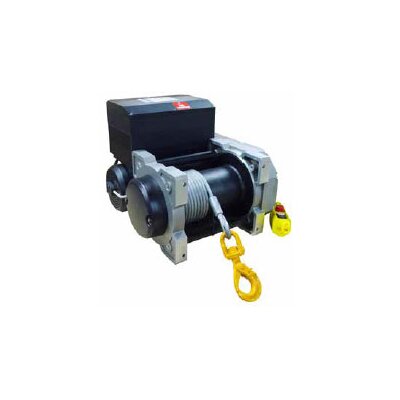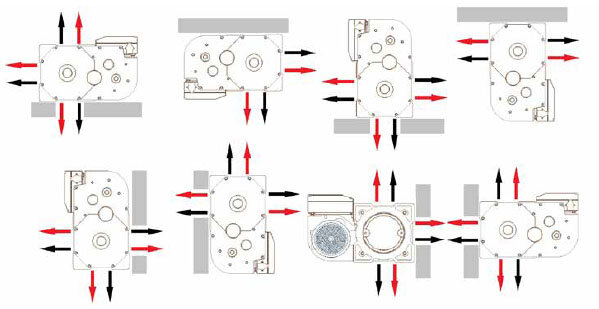 Select a row from the table below, then click the add to quote button
Download CAD

Download CAD by choosing the desired product from the table above and the format from the menu below. Click "Get CAD" and after the load reaches 100% you can click on the download icon to download it. Please note that CAD drawings are only available if the icon at the right side of the table above is colored and not grayed out.
Type

Capacity

No. of layers

Wire rope capicity

wire rope ø

Variabele snelheid

FEM class

Motor

Power

Weight without wire rope

1st Layer

top layer

1st Layer

top layer

1st Layer

top layer

kg

mtr

mm

m/min

kW

kg

TRBOXTER251-VV9

290

250

3

16

56

5

0.8 - 8

0.9 - 9

1 Am

0.75

1 Ph - 230V

50

TRBOXTER251-VV14

290

250

3

16

56

5

1.3 - 13

1.4 - 14

1 Am

0.75

1 Ph - 230V

50

TRBOXTER251-VV21

290

250

3

16

56

5

2- 20

2.1 - 21

1 Am

1.1

1 Ph - 230V

54

TRBOXTER251-VV43

290

250

3

16

56

5

4 -40

4.3 - 43

1 Am

2.2

1 Ph - 230V

62

TRBOXTER253-VV9

290

250

3

16

56

5

0.8 - 8

0.9 - 9

1 Am

0.75

3 Ph - 230/400V

50

TRBOXTER253-VV14

290

250

3

16

56

5

1.3 - 13

1.4 - 14

1 Am

0.75

3 Ph - 230/400V

50

TRBOXTER253-VV21

290

250

3

16

56

5

2- 20

2.1 - 21

1 Am

1.1

3 Ph - 230/400V

54

TRBOXTER253-VV43

290

250

3

16

56

5

4 -40

4.3 - 43

1 Am

2.2

3 Ph - 230/400V

62

TRBOXTER253-VV60

290

250

3

16

56

5

5.1 - 51

6 - 60

1 Am

3

3 Ph - 230/400V

66

TRBOXTER351-VV9

400

350

3

16

56

5

0.8 - 8

0.9 - 9

1 Bm

0.75

1 Ph - 230V

50

TRBOXTER351-VV14

400

350

3

16

56

5

1.3 - 13

1.4 - 14

1 Bm

1.1

1 Ph - 230V

54

TRBOXTER351-VV26

400

350

3

16

56

5

2.6 - 26

3 - 30

1 Bm

2.2

1 Ph - 230V

62

TRBOXTER353-VV9

400

350

3

16

56

5

0.8 - 8

0.9 - 9

1 Bm

0.75

3 Ph - 230/400V

50

TRBOXTER353-VV14

400

350

3

16

56

5

1.3 - 13

1.4 - 14

1 Bm

1.1

3 Ph - 230/400V

54

TRBOXTER353-VV26

400

350

3

16

56

5

2.6 - 26

3 - 30

1 Bm

2.2

3 Ph - 230/400V

62

TRBOXTER353-VV42

400

350

3

16

56

5

3.9 - 39

4.2 - 42

1 Bm

3

3 Ph - 230/400V

66

TRBOXTER501-VV4

600

500

3

12

42

7

0.4 - 4

0.5 - 5

1 Bm

0.75

1 Ph - 230V

50

TRBOXTER501-VV11

600

500

3

12

42

7

1 - 10

1.1 - 11

1 Bm

1.1

1 Ph - 230V

54

TRBOXTER501-VV21

600

500

3

12

42

7

2- 20

2.2 - 22

1 Bm

2.2

1 Ph - 230V

62

TRBOXTER503-VV4

600

500

3

12

42

7

0.4 - 4

0.5 - 5

1 Bm

0.75

3 Ph - 230/400V

50

TRBOXTER503-VV11

600

500

3

12

42

7

1 - 10

1.1 - 11

1 Bm

1.1

3 Ph - 230/400V

54

TRBOXTER503-VV21

600

500

3

12

42

7

2- 20

2.2 - 22

1 Bm

2.2

3 Ph - 230/400V

62

TRBOXTER503-VV32

600

500

3

12

42

7

2.6 - 26

3.2 - 32

1 Bm

3

3 Ph - 230/400V

66

TRBOXTER601-VV5

750

600

4

19

93

7

0.5 - 5

0.6 - 6

1 Am

0.75

1 Ph - 230V

8

TRBOXTER601-VV10

750

600

4

19

93

7

0.9 - 9

1.1 - 11

1 Am

1.5

1 Ph - 230V

101

TRBOXTER603-VV5

750

600

4

19

93

7

0.5 - 5

0.6 - 6

1 Am

0.75

3 Ph - 230/400V

88

TRBOXTER603-VV10

750

600

4

19

93

7

0.9 - 9

1.1 - 11

1 Am

1.5

3 Ph - 230/400V

101

TRBOXTER603-VV15

750

600

4

19

93

7

1.5 -15

1.9 - 19

1 Am

2.2

3 Ph - 230/400V

100

TRBOXTER603-VV20

750

600

4

19

93

7

1.8 - 18

2.2 - 22

1 Am

3

3 Ph - 230/400V

104

TRBOXTER603-VV30

750

600

4

19

93

7

2.6 - 26

3.2 - 32

1 Am

4

3 Ph - 230/400V

107

TRBOXTER801-VV5

950

800

3

16.5

59

8

0.4 - 4

0.5 - 5

1 Bm

1,1

1 Ph - 230V

92

TRBOXTER803-VV5

950

800

3

16.5

59

8

0.4 - 4

0.5 - 5

1 Bm

1,1

3 Ph - 230/400V

92

TRBOXTER803-VV10

950

800

3

16.5

59

8

0.9 - 9

1 - 10

1 Bm

2.2

3 Ph - 230/400V

10

TRBOXTER803-VV13

950

800

3

16.5

59

8

1.2 - 12

1.4 - 14

1 Bm

3

3 Ph - 230/400V

104

TRBOXTER803-VV17

950

800

3

16.5

59

8

1.5 - 15

1.7 - 17

1 Cm

4

3 Ph - 230/400V

107

TRBOXTER991-VV5

1200

990

3

14.5

53

9

0.4 - 4

0.5 - 5

1 Bm

1,1

1 Ph - 230V

92

TRBOXTER993-VV5

1200

990

3

14.5

53

9

0.4 - 4

0.5 - 5

1 Bm

1,1

3 Ph - 230/400V

92

TRBOXTER993-VV10

1100

990

2

14.5

34

9

0.9 - 9

1 - 10

1 Bm

2.2

3 Ph - 230/400V

100

TRBOXTER993-VV13

990

990

1

14.5

14.5

9

1.2 - 12

1.2 - 12

1 Bm

3

3 Ph - 230/400V

104

TRBOXTER993-VV17

990

990

1

14.5

14.5

9

1.5 - 15

1.5 - 15

1 Cm

4

3 Ph - 230/400V

107

TRBOXTER1501-VV4

1500

1500

1

11.5

11.5

11.5

0.4 - 4

0.4 - 4

1 Bm

1.5

1 Ph - 230V

101

TRBOXTER1503-VV4

1500

1500

1

11.5

11.5

11.5

0.4 - 4

0.4 - 4

1 Bm

1.5

3 Ph - 230/400V

101

TRBOXTER1503-VV9

1500

1500

1

11.5

11.5

11.5

0.9 - 9

0.9 - 9

1 Cm

3

3 Ph - 230/400V

104

TRBOXTER803-VV5

950

800

3

16.5

59

8

0.4 - 4

0.5 - 5

1 Bm

1,1

3 Ph - 230/400V

92

TRBOXTER803-VV10

950

800

3

16.5

59

8

0.9 - 9

1 - 10

1 Bm

2.2

3 Ph - 230/400V

10

TRBOXTER803-VV13

950

800

3

16.5

59

8

1.2 - 12

1.4 - 14

1 Bm

3

3 Ph - 230/400V

104

TRBOXTER803-VV17

950

800

3

16.5

59

8

1.5 - 15

1.7 - 17

1 Cm

4

3 Ph - 230/400V

107

TRBOXTER991-VV5

1200

990

3

14.5

53

9

0.4 - 4

0.5 - 5

1 Bm

1,1

1 Ph - 230V

92

TRBOXTER993-VV5

1200

990

3

14.5

53

9

0.4 - 4

0.5 - 5

1 Bm

1,1

3 Ph - 230/400V

92

TRBOXTER993-VV10

1100

990

2

14.5

34

9

0.9 - 9

1 - 10

1 Bm

2.2

3 Ph - 230/400V

100

TRBOXTER993-VV13

990

990

1

14.5

14.5

9

1.2 - 12

1.2 - 12

1 Bm

3

3 Ph - 230/400V

104

TRBOXTER993-VV17

990

990

1

14.5

14.5

9

1.5 - 15

1.5 - 15

1 Cm

4

3 Ph - 230/400V

107

TRBOXTER1501-VV4

1500

1500

1

11.5

11.5

11.5

0.4 - 4

0.4 - 4

1 Bm

1.5

1 Ph - 230V

101

TRBOXTER1503-VV4

1500

1500

1

11.5

11.5

11.5

0.4 - 4

0.4 - 4

1 Bm

1.5

3 Ph - 230/400V

101

TRBOXTER1503-VV9

1500

1500

1

11.5

11.5

11.5

0.9 - 9

0.9 - 9

1 Cm

3

3 Ph - 230/400V

104