GWO certificate
The Global Wind Organisation (GWO) is a cooperation between several large players in the wind industry. Together they have created a standard for people working in the wind industry.
Since 2014 we offer specific GWO training for the (offshore) wind industry according to the GWO standard. With this training you will gain the necessary knowledge to work safely at heights in a wind turbine environment internationally. In addition to learning how to work with fall protection, the training focuses on safe evacuation and safe rescue.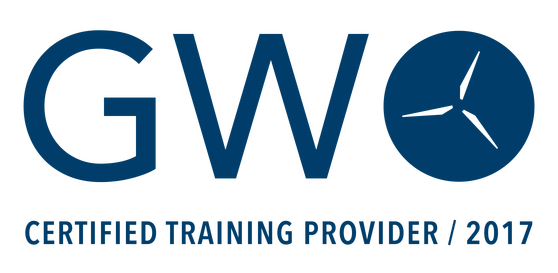 Responsibility
Do you have to follow a training course according to the Health and Safety Catalogue for Wind Energy Companies? Then a GWO training course is sufficient. Although the GWO certificate is valid for 2 years, the Health and Safety Catalogue for Wind Energy Companies states that working at height training courses must be repeated every year. Since the responsibility lies with you as the employer, you need to plan this yourself.
An additional advantage of the annual repetition is that you are also qualified to work abroad. In a number of countries, annual training is mandatory. More information about 'Verplichtingen voor windenergiebedrijven'.

Our offer